Eva Burghardt dancer|choreographer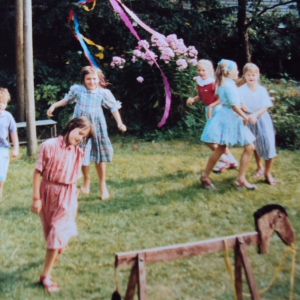 Eva Burghardt is a freelance dancer, choreographer and teacher of dance and performance, based in Berlin.
After graduating in contemporary dance and choreography at SEAD (Salzburg Experimental Academy of Dance) and studying at the NYU Tisch School of the Arts in New York, Eva moved to Berlin.
Here, she studied Theatre Science at the Freie Universität Berlin and performed in her first freelance projects, such as finish tango, a duet with Nina Wehnert and Our theatrical plural selves… in collaboration with Itetel- flying backwards. Together with her colleagues of Jim Spastics & Hans Gender, an interdisciplinary performance collective, she performed in Cindy kauft sich ein Kleid bei H&M und zieht ins WestGermany, which was premiered in West Germany – Büro für Postmoderne Kommunikation.

From 2008-2010 Eva moved to Bern, where she completed her Master's in Scenic Arts Practice at the Hochschule der Künste Bern, for which she received the Beatrice and Otto Tschumi scholarship for Masterstudies in Tanztheater.
During her time in Switzerland she worked with Ralf Samens, Lukas Bangerter/PLASMA and VA Wölfl/Neuer Tanz. Wölfl`s piece Das Publikum verrät Eurydike. Schauspielerbeschimpfung was invited to Tanztage Basel and the Mousonturm Frankfurt.
Eva's solo Shut up and love me was her first collaboration with the musician and sound artist Till Hillbrecht and the stage designer Flurin Madsen. The piece premiered in Südpol Luzern, with further performances in Dampfzentrale Bern. In 2011 the piece was invited to the 20. Tanztage Berlin in Sophiensaele.
Over the last years she has been choreographing and performing in several pieces, collaborating with fellow artists Naïma Ferré, Elma Riza, Sheena McGrandles, Francesca Honegger, Antje Velsinger and musicians such as Benedikt Bindewald, Neta Rudich and Daniël Ploeger. In 2012 she started her first collaboration with the Melbourne based Triage Live Art Collective.
As a dancer and performer she has worked for Michael Simon (Salome / Richard Strauss) at Staatstheater Braunschweig, Eeva Muilu (Unlearning and Discovery) at Dock 11, and as a guest dancer in Achim Freyer´s Messa Da Requiem / Giuseppe Verdi at Deutsche Oper Berlin and in Eugen Onegin / Peter I. Tschaikowsky at Staatsoper Berlin among others.
Since 2007 she has been co- directing and teaching in the Intercultural Art Project Reflexions in Niedermiròw, Polend. She is also a lecturer/instructor in Dance and Performance Studies at Bard College Berlin and University of Applied Sciences Emden/Leer. She is giving workshops for kids and young adults (i.e. for Chance Tanz and FSJ Kultur) as well as regular classes in Berlin.
Her driving force in doing choreography, dance and teaching is greatly influenced by her interest in instant composition and improvisation technique, as well as an interdisciplinary approach to work.